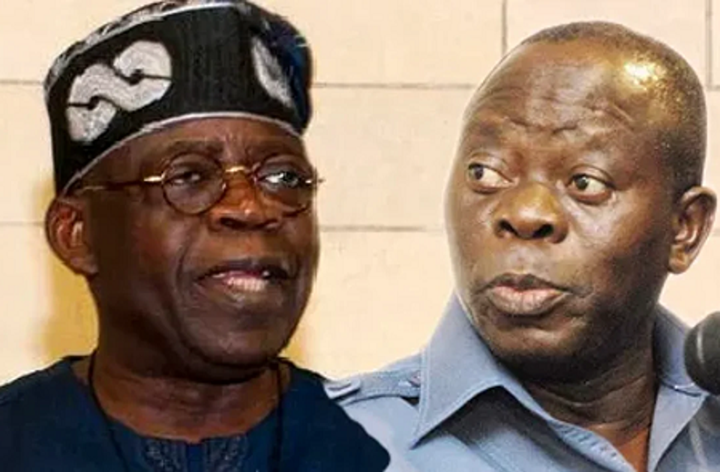 Picture: Asiwaju Bola Ahmed Tinubu and Comrade Adams Oshiomhole
When Godwin Obaseki won the Edo State gubernatorial election in 2016, his predecessor and political godfather, Adams Oshiomhole, had something significant to say. Oshiomhole boldly said an end had come to godfatherism in Edo State. He had just defeated Osagie Ize-Iyamu of the Peoples Democratic Party who was backed by the likes of Gabriel Igbinedion, Raymond Dokpesi, Tom Ikimi, the late Tony Anenih and other influential figures regarded as 'godfathers'. Although that statement was seen as a welcomed development by political analysts, they didn't understand the full implication of that talk. What Oshiomhole was saying was that the old champions have lost their crowns and there was a new kid (him) on the block. All roads were clear for Oshiomhole to dominate over the state as the new kingmaker just like the late Lamidi Adedibu, did for years in Oyo State and also how Asiwaju Bola Ahmed Tinubu, has been exerting influence over Lagos State for over a decade.
As the years went by, Obaseki wanted to be his own man. He didn't want to be a stooge of Oshiomhole. He wanted to be a powerhouse on his own and he soon started to build his political base as he weeded out Oshiomhole gradually from the helm of affairs of the South-South state. This led to animosity between him and Oshiomhole, who appeared to have singlehandedly made him the number one citizen of the state from obscurity.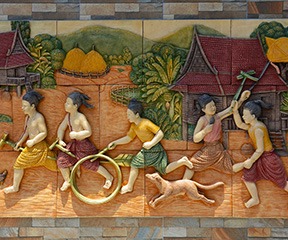 Picture: Governor Godwin Obaseki and Pastor Osagie Ize-Iyamu
Edo State will be heading to the polls again on the 19th of September, 2020, to either elect a new governor or re-elect Obaseki. Oshiomhole has now returned for his pound of flesh and he wants it in style. Since the constitution disallows him from running for governor, after he had already completed his two terms of eight years, he has recruited the former challenger of Obaseki to beat him in his territory. Oshiomhole reportedly engineered the return of Iyamu to the ruling All Progressives Congress, APC, and he is prepping him to beat Obaseki at the primaries of the party. A faction believed to be loyal to Oshiomhole has made Iyamu, its consensus candidate. If Oshiomhole has his way, Obaseki will not only live forever to nurse the pains, but he will be in the awe of Oshiomhole till his last day.
Oshiomhole, the national chairman of the APC, is about to take the act of godfatherism to a new height. His actions simply mean that the votes of the over 5 million people in Edo State don't count. It is all about the wishes and backing of a single man like him that determines who occupies the seat of governor. Iyamu and Oshiomhole were once political allies. Iyamu served as the Chief of Staff and Secretary to Edo State Government (SSG). Widely regarded as a grassroots politician, he was also the Director-General of Oshiomhole's second term campaign organization. The failure of Oshiomhole to support the political ambitions of Iyamu stirred up hostilities between both parties. Iyamu left for the PDP, emerged as the party's governorship candidate in 2016 and collided with APC's Obaseki, who was heavily backed by Oshiomhole. Oshiomhole, rather than showcase the resume and leadership capacity of Obaseki, distracted the media by dancing at public events and maligning the image of Iyamu. He regarded Iyamu as a fake lawyer and pastor who had a corruption case to answer before the anti-graft agency - Economic and Financial Crimes Commission, EFCC.
Fast-forward to the year 2020, Oshiomhole has made a U-turn about his orientation of Iyamu. Suddenly, he is no more the corrupt individual, but that messiah that could turn around the fortunes of Edo State. Oshiomhole has succeeded in dividing the party supporters in Edo State into two camps; the supporters of Obaseki and that of Iyamu/Oshiomhole. The implication of this is that Obaseki's re-emergence as governor will never be a smooth ride especially, the party primaries. He would pass through Oshiomhole first and the diminutive former Nigeria Labour Congress leader has set an unfavourable playing ground for Obaseki - direct primaries.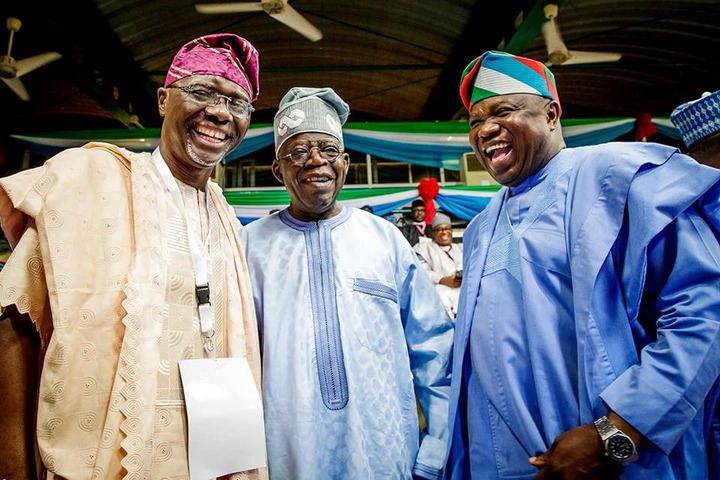 Picture: Babajide Sanwo-Olu, Bola Tinubu and Akinwunmi Ambode
Oshiomhole as the new Tinubu, Obaseki as the new Ambode
Obaseki's fate might be similar to that of the 'ousted' former governor of Lagos State, Akinwunmi Ambode. Tinubu needs no introduction, the 68-year-old was the governor of Lagos State between 1999-2007 and since then, he has maintained a tight grip over the state. Since his exit as governor, he has 'appointed' three governors namely Babatunde Raji Fashola, Amobode and the present governor, Babajide Sanwo-Olu. After helping Ambode become the governor of the state in 2015, Ambode reportedly went against the fictitious 'masterplan of Lagos State'. This negatively impacted on his relationship with Ambode, forcing Tinubu to look elsewhere for a new protege.
The first step was to ease Ambode out of office in a very disgraceful but democratic manner. A sham direct primaries at the party level denied Ambode a second term. Tinubu didn't stop there, he peacefully strong-armed Ambode, into accepting defeat like a prodigal son and then supporting the candidacy of his then-rival, Sanwo-Olu till the end. The hardest part for Ambode must have been faking smiles and endorsing Sanwo-Olu at campaign rallies, but he lived through it like everything was perfect. He remained tight-lipped about the dramatic event till this day. It would be recalled that Ambode - a former poster boy of the APC went from the GOAT to a malnourished scapegoat in a few months as soon as Tinubu turned his back on him. Since Ambode's tenure ended in 2019, he has faded into political oblivion. His actual location on this planet has become a matter of media speculations. The EFCC has been patiently lurking around him for months like a hawk plotting to attack the chicks of a mother hen.
Back to Obaseki, his case might be similar to that of Ambode but he wants to stand up and fight rather than being cowed by his former godfather. Luckily for him, Oshiomhole doesn't possess the political experience, clout and financial resources at the disposal of Tinubu. Just like the scenario that crippled Ambode, the APC has adopted direct elections regarded as the Achilles Heels of Obaseki. In the coming days, a victory against Obaseki at the level of party primaries will be the morale booster of Oshiomhole. This will also lead to the exit of Obaseki from the party, as he is already being courted by the PDP. If he decamps and successfully emerges as the flagbearer of the party, the election will be close to a replay of the 2016 governorship election, not yet in terms of results. Two players swapping teams going against each other. The victory of Iyamu will certainly add more feathers to the shoulder of Oshiomhole. He will be gradually targeting the godfather records of Tinubu. While Tinubu has produced three governors in Lagos, Oshiomhole would have produced two with a plan to take the tally further up.
In conclusion, Oshiomhole isn't backing down. He is eager to run through Obaseki like a moving train and crush him into the other world. All attempts to mediate between both parties have failed woefully. Oshiomhole sees Obaseki as a journeyman who is being paid to take a beating. But the proof is in the pudding as they say. They will soon be going to war towards the end of the year; if Oshiomhole's Iyamu emerges victorious, then Oshiomhole will be crowned the 'Tinubu' of Edo State. We are closely watching how the drama unfolds.