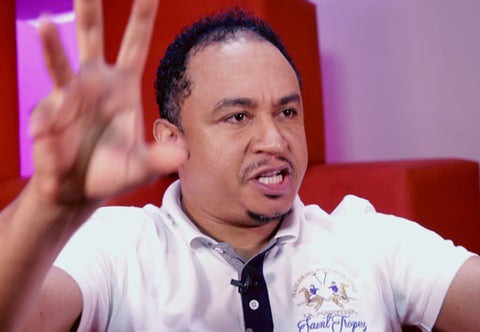 Picture: Ifedayo Olarinde aka Daddy Freeze
When 'Pastor' and OAP Ifedayo Olarinde aka Daddy Freeze, visited Ramon 'Hushpuppi' Abbas, in his palatial home in Dubai, the United Arab Emirates, in October 2019, and shot a documentary of a sort, I knew that action was going to backfire. It was just a matter of time. This is because people like Hushpuppi who cut corners for a living live on borrowed times. Daddy Freeze enjoyed himself with his baby-mama. He acted like the biggest fan of Hushpuppi whose source of income is as questionable as that of Nigerian politicians.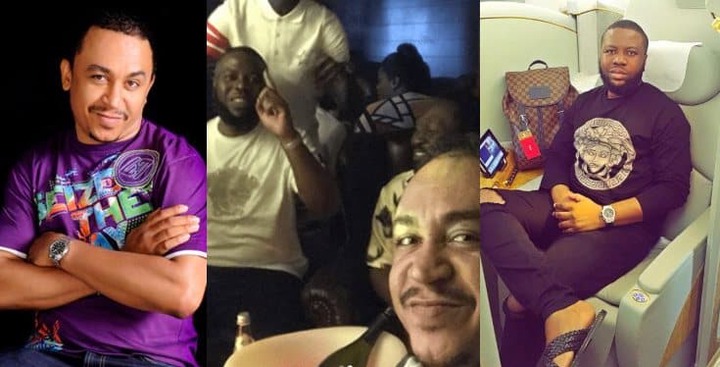 Picture: Daddy Freeze and Hushpuppi
When the video of his visit was uploaded on YouTube, Freeze got the massive views and comments he must have anticipated, but that was never going to be the end. The video was going to be used as a reference point for a supposed lack of integrity on the path of Freeze in the nearest future. As a big fan of Freeze, I watched the video in a dumbfounded state. What popped in my mind at that point was that; is this the real nature of Freeze and all his claims about being a teacher, a facade? Is he not supposed to be a pastor? Is this the puritan or fundamentalist that has been trying to clean up or revolutionize the church? As I struggled to get credible answers, I concluded that human beings will always be human beings. Nobody is perfect, and we all have our failings.
But Freeze started well.....
The 44-year-old native Osun State is no doubt a knowledgeable and eloquent man who has earned a name for himself in the broadcasting industry. He also boasts of a vast understanding of diverse issues of human interest. He started conversations on religion that many have been scared to venture into. Those questions have always been in our hearts, but due to the fear of being befallen by mysterious ill-luck, sickness or death, many stomached those concerns and left judgement for in the hands of God. While prominent Christian clerics grabbed the headlines for sins, even the dirtiest politicians were scared to commit, most Nigerians kept mute.
Issues like offerings, tithes, and other financial demands that stifled the bank accounts of congregants were hardly raised. People suffered in silence and masked their feelings with smiles. Most church members grew poorer. They never saw the promised blessings while their leaders grew in opulence. They got tired of using the roads and they started flying in the air more than the birds of the sky.
As some pastors performed staged miracles to hoodwink members, others sexually took advantage of their female members that they were supposed to be protecting as good shepherds. Finally, a man found his voice on social media and radio and started speaking against the ills in the church. He opened several issues to debates and people contributed intellectually. He started gathering thousands of followers and gained so much momentum that pastors started feeling threatened. He backed up his views with the scriptures. Most pastors became scared of Freeze and they discouraged their members from listening to his teachings. In essence, Freeze sparked critical thinking in the church but his methods and approaches were crude and overbearing. He was and is very insulting; his approach is tantamount to cyber-bullying. But his message was passed and history will never forget his efforts. According to him, he made massive financial sacrifices due to his criticisms of Christian clerics in Nigeria.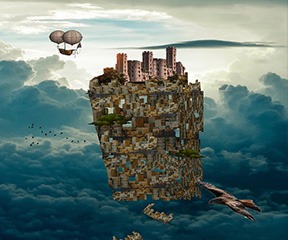 Freeze got distracted!
As Freeze viciously called out big names of prominent Christian clerics via his Instagram page, the bloggers helped increase the volume of his voice. Due to the interest the issues he raised gathered, the mainstream media later gave Freeze audience. They reported issues concerning him. At some point, newspaper columnists started writing about Freeze. It was like him against the world. This must have gotten into the head of Freeze who had cemented his status as an opinion leader and influencer in the media space. He started craving for more attention. He was desperate to create contents.
Daddy Freeze reacted to almost every trending issue online. He never missed the religious ones. Even when not necessary, he would tweak any trending development and give it a religious outlook. He fought dirty with trolls. With time, many started figuring out the weaknesses of Freeze. They realized that his chin was made of glass. He could dish out killer punches but couldn't ensure any. His skin was almost lighter than that of a newborn baby. He blocked his followers at regular intervals and frequently used cuss words on them. Later on, there was some sort of paradigm shift in his behaviour. Freeze wanted to attract some big names to himself and probably get friendly with them. Maybe Freeze was already trying to monetize his status which isn't a crime. One of his then arch-enemies, Apostle Johnson Suleman of the Omega Ministries International, reached out to Daddy Freeze and in a twinkle of an eye, they became bosom friends. All attacks on Apostle Suleman ceased, he stopped humiliating him on his social media page and steered clear of any negative issue that concerned him. With time, it was almost like Freeze was doing a PR job for the controversial cleric.
Freeze didn't stop there, he was onto the next one. When Busola Dakolo accused Pastor Abiodun Fatoyinbo of COZA of raping her, Freeze positioned himself to benefit from the issue. He pinpointed holes in her story and made moves to interview Pastor Fatoyinbo who hardly speaks directly to the media. It should be noted that this is a man Freeze has turned into a punching bag on social media. YNaija - the media platform pushing the Busola Dakolo story got wind of the move and went public about it, Pastor Fatoyinbo was forced to cancel the scheduled interview. Freeze lost a big opportunity to meet him physically. That would have been one of the biggest exclusive stories of his life.
Right before this event, Freeze was getting friendly with Hushpuppi who has a bad reputation on social media. He regularly came to the defence of the young man who at that time hardly denied being into cyberfraud. When Hushpuppi claimed to have bought two exotic cars in quick successions, one of the socialites, Cubana Chiefpriest attacked him. He accused Hushpuppi of renting the vehicles and lying about purchasing them. Hushpuppi made frantic efforts to prove his claims, Freeze then jumped in and supported Hushpuppi. He even offered to visit him in Dubai and drive his new rides as he does normally to special cars.
His regular defense of Hushpuppi endeared him more to the suspected fraudster and this laid the foundation for their meeting in Dubai. As against the claims of Freeze of only interviewing Hushpuppi on a journalistic note, the interview was unprofessionally conducted. It reeked of a personal relationship between both parties. He sounded like a praise-singer and PR manager of Hushpuppi in the video which is still obtainable online.
Freeze will never remain the same
Freeze might have explained credibly why he hung out with Hushpuppi, but the damage has been done already. The chickens have come to roost! He will be regarded as someone who doesn't practise what he preaches. Such a man who could wine and dine with a character like Hushpuppi will never easily have his way criticizing Christian clerics as he has always done. Before now, Freeze had fallen out of favour with the majority of social media users who used to be his fans. It will only become worse. Well, Freeze doesn't crave for love. He is used to standing alone and this is the brand image he was created. He will endure the trolls and also fight back in a dirty way until the issue dies. But his name has been tainted already, he will be walking around with the baggage similar to that of Nigerian politicians for a very long time.