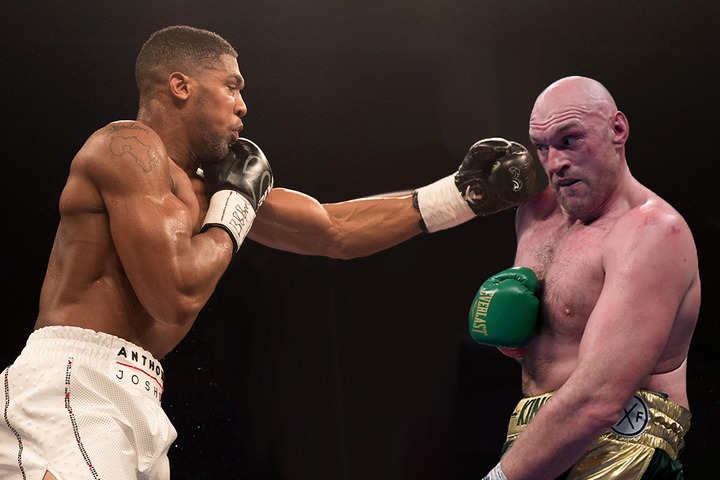 Since Tyson Fury defeated Deontay Wilder in the last 48 hrs and upped his unbeaten record to 31 wins, many have been calling for the undisputed fight with Anthony Joshua.
Fury presently has one (WBC) of the 4 major belts in the heavyweight division and the public has been clamouring for a boxer who will unify the division and own all the titles just like Wilder dreamt over a long period of time. The implication of this is that he needs to take the other three (WBA, WBO and IBF) from Joshua through the ring and it is not going to be child's play.
Many believe Joshua who was humiliated by Andy Ruiz, the Mexican chubby fighter that gave him his first loss in June 2019 at the Madison Square Garden in the U.S might suffer the fate of Wilder in the hands of Fury but that is not true. Wilder's record of over 40 knockouts has been padded over the years. He never fought credible opponents except for Luis Ortiz who is rumoured to be about 50 years of age unofficially. Well, that is not the issue for today.
Joshua can actually rock Fury and beat him. It is going to be a low-risk fight because Fury doesn't possess the punching power of Wilder which could end any fight in split seconds. First of all, Joshua has experience with Fury and it happened when he had just turned professional. They once sparred and this must have given Joshua a good knowledge of his style and capabilities.
Furthermore, Fury is actually very skilful but also vulnerable. He has good head and upper body movement which makes him so elusive during fights. As you can see, Wilder struggled to catch him severally in their rematch on Saturday. But Fury has a big body which he leaves visibly behind when he moves. All you need to do is to invest some heavy shots on his body to wear him down gradually. This was the same tactic employed by one of his recent opponents, Otto Wallin from Sweden who gave Fury serious cuts in the eye which later required 47 stitches. Wallin, an unproven fighter kept hitting Fury's body at regular intervals as he missed the head. The fight made Fury look so ordinary that he was forced to change his trainer, Ben Davison after his father mounted pressure on him.
Joshua is a more refined fighter and heavy puncher compared to Wallin, so he might do a better job working on Fury's body and damage might be caused in no time. Additionally, Joshua never struggles against big guys in the ring, he has only shown so much vulnerability against the shorter fighters.
Majorly, working on Fury's body is the key to beating him and Joshua is more than capable to exploit that major loophole to slow Fury down before landing power shots on his chin
Joshua's promoter Eddie Hearn has been trying to make the fight with Fury and there is a possibility that the undisputed fight could happen in December or next year as the boxing world has been calling for it.